Who are we and what do we do?
The Colorado Springs (America the Beautiful) Chapter of the Barbershop Harmony Society welcomes you and we invite you learn more about our organization. Our Chapter joins a brotherhood of nearly 28,000 men internationally who share a love for the lock and ring of a barbershop chord. We sing old songs, new songs, love songs, slow songs, upbeat songs, country-western, show songs, humorous songs, and more, all in 4-part barbershop harmony. The major shows in the Spring and at Christmas include our 35 man chorus and several chapter and guest quartets. We also perform at local gatherings throughout the year. Singing barbershop is a hobby and we are all about having fun at the same time Our Society motto is "Keep the Whole World Singing,"
Mission Statement
The America the Beautiful Chapter will promote excellence in chorus and quartet singing by providing an environment of fellowship and music education that meets the musical needs of the individual members. We will preserve the barbershop style and heighten public appreciation of barbershop harmony through quality performance and charitable outreach in our community.
Chapter Objectives
Personal Excellence: Provide an environment for all singers to strive for the highest level of enjoyment they can achieve. Singing Excellence: Dedicate the effort necessary to make each individual the best singer he can be and compete at the highest level in the Barbershop Harmony Society Performing Excellence: Perform many styles of music with a professional approach to singing and staging that rivals any performing group in the country.
Vision Statement
The America the Beautiful Chapter is an ever-growing fraternity of barbershop harmony singers, achieving excellence through a cappella vocal music performance.
Quartets
The chapter has had several active quartets through the years and encourages members to join together to form new quartets.
Velcro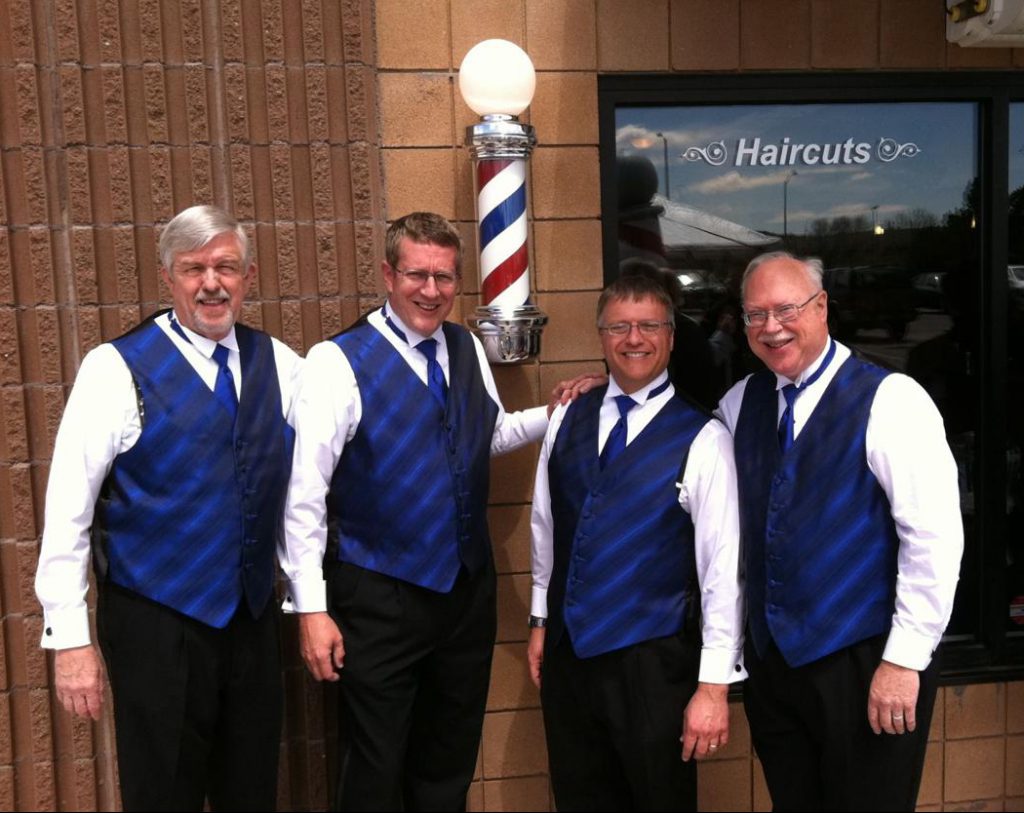 Four guys got together one night to sing several years ago and decided to stick with it. Thus, "Velcro" was formed.
Singing baritone – Tim Simmons, Bass – Gary Hickenlooper, Tenor – Mark Hoffman and Lead – Lee Jolly.
We enjoy performing for a variety of events and celebrations. For booking information call (719-362-7935) or email (mbhoffman99@hotmail.com) and Mark will answer any questions.