Velcro
Four members of the chapter got together one night to sing some songs and decided to stick together—thus "Velcro" was formed. Twelve years later Velcro is still belting out the songs and having the time of their lives. They have performed in a variety of venues over the years and have enjoyed every minute of it. Of course, they perform on chapter shows and participate in Rocky Mountain District competitions. But, they have also sung at ice cream socials, retirement and anniversary parties and even walked the streets of downtown Colorado Springs during the holidays singing Christmas carols. They simply love to sing together and take every opportunity to do so.
The quartet is comprised of Tim Simmons, baritone; Gary Hickenlooper, bass; Lee Jolly, lead; and, Mark Hoffman, tenor. Here they are following their award winning performance at the recent Rocky Mountain District Championship.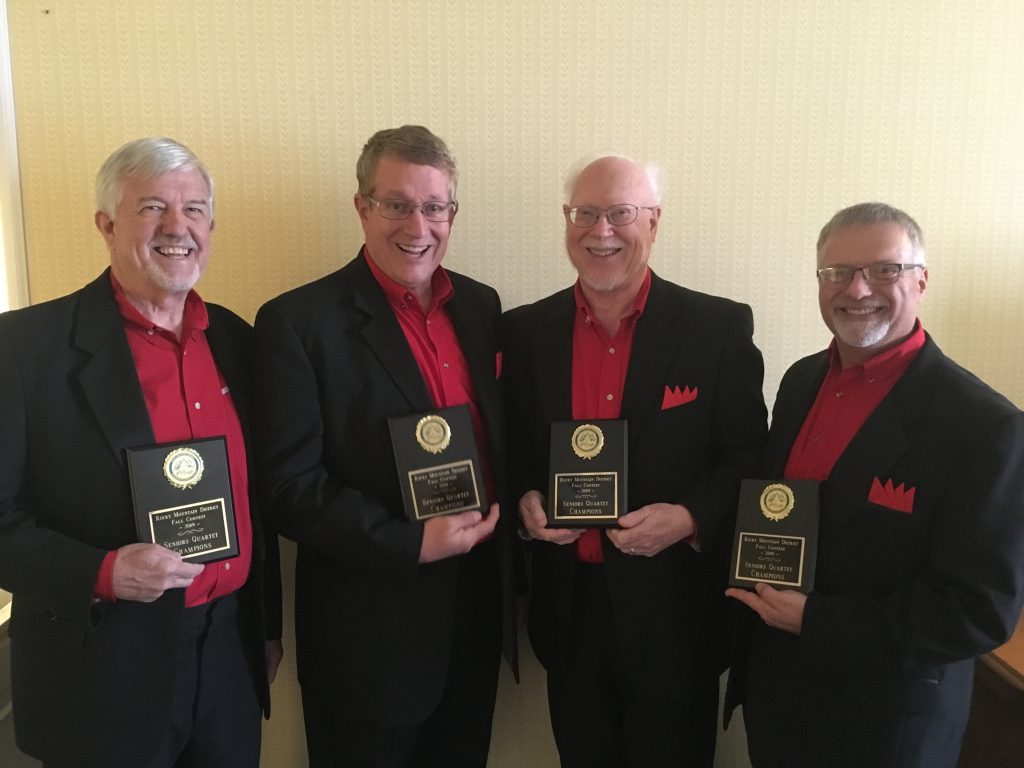 On the evening of Friday, September 27, Velcro took the stage at the Rocky Mountain District Championships to sing their competition set. They opened with one of their favorites, The Red Rose Rag and followed that with I Don't Know Why I Love You Like I Do. They did not know it when they left the stage, but the next day they were awarded with the District Senior Quartet Championship Award! This is certainly a well-deserved recognition for a solid quartet that has done a terrific job of preserving the barbershop style of music for the past several years.
Velcro's efforts have not gone unrecognized as outlined in this Gazette article which appeared in 2017 and written by Eric Singer:
"It's cool how music affects people. It's like bringing back a spark to someone's life when we perform across Colorado Springs." That's how Gary Hickenlooper describes the Barbershop quartet sound you will hear live during his band's Take 10 performance on Friday, May 26 from our Gazette Studio during the noon hour on the Gazette Facebook page.




Hickenlooper's Barbershop quartet is called Velcro. Yeah, the 'why" of that name was my first question and Hickenlooper said the group kicked around names nine years ago and smiled when the name Velcro was brought up and that moniker stuck, no pun intended. Hickenlooper sings bass, Mark Hoffman sings tenor, Lee Jolly is the lead singer and Tim Simmons sings baritone.




Gary says the Barbershop quartet has a nice sound to it, "When you like to sing and you hear the notes and lyrics blend, you are addicted to the a capella magic." Velcro has been a registered quartet for nine years with the Barbershop Harmony Society. The Colorado Springs chapter that he and his group are part of has been around for 71 years.




You may say this music is so "yesterday." But that is not the case according to Hickenlooper. He says the fastest demographic of people joining this Barbershop quartet style of music is the under-25 crowd. Gary believes that this 21st century a capella sound is a mix of old and new music performed across the world. "We are getting a lot more contemporary music arranged in four-part harmony."
For bookings, contact Gary Hickenlooper at (719) 337-0010 or ghickenlooper@hotmail.com
Here are some photos of Velcro entertaining others and enjoying themselves: