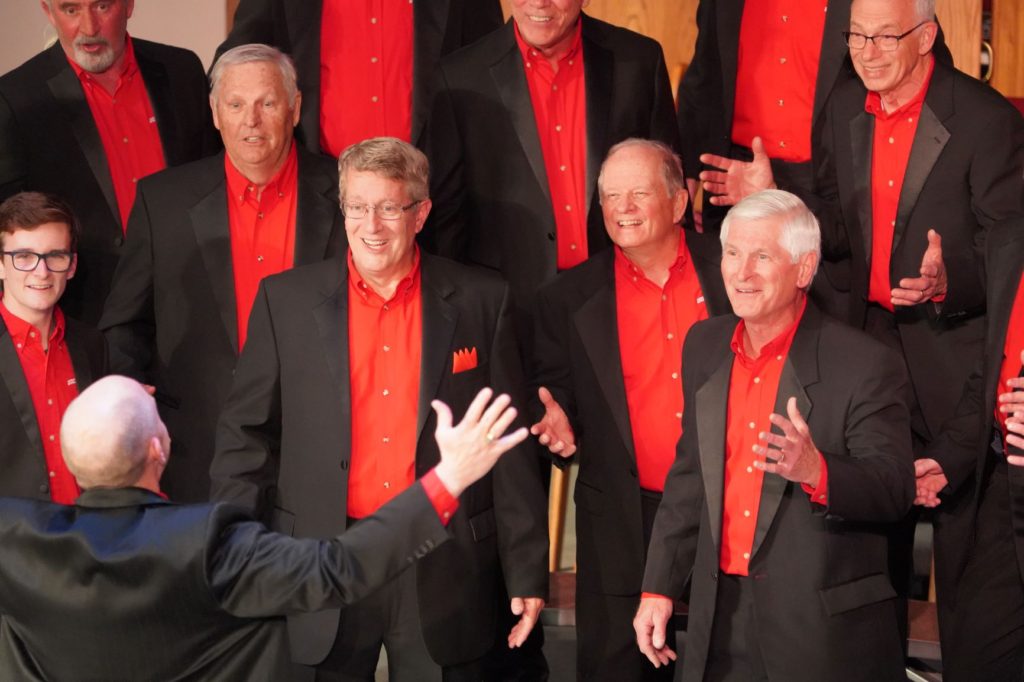 If you like to sing and enjoy being part of an organization that aspires to excellence, then you should consider membership in our chorus. The first step is to attend one or more of our weekly rehearsals.  Those take place on Tuesday evenings at 7 pm at Village Christian Church.  Full details (including a map) are on the Visit Us tab of this web site.
The ability to sight read from sheet music is not a requirement for membership.  Most of our members learn the music from listening to part-specific recordings that are available through our Members Only section of this web site.  After you have spent some time singing with the group, you will gain a greater understanding of some of the markings and notations on regular sheet music.  That will help in your further understanding of our style of singing.
The most important part of becoming a member is to be willing to learning how to produce proper vocal technique.  You may have been singing in church choirs or other groups over the years, but singing a cappella (unaccompanied) 4-part harmony arrangements is different….but VERY rewarding.  We have a top level director and many other knowledgeable singers in the group who can provide any assistance that you may need.  The key thing is that there is NO PRESSURE for you to join until you are absolutely ready to join with us on the risers producing the very highest quality singing entertainment.
Once you have visited with us a few times, you may wish to apply for membership.  Before accepting your application, we will ask that you sing one song (of your choosing) from among our list of "polecats."  Polecats are songs that everyone throughout the barbershop community have learned and enjoy singing together.  By the time you are ready to audition, you will have had a voice placement assessment completed by our director.  This is to evaluate your voice and make a determination as to what part you should be singing.  Barbershop music is arranged for four voice parts:  Lead is the voice normally singing the melody; Bass is the voice providing harmony notes in the lower register; Tenor is the voice singing harmony notes generally higher on the scale than the melody; and Baritone is the voice singing notes around the melody  completing the chord and making that unique barbershop sound.  The audition song you choose should be memorized and will be performed in a quartet format usually with the section leaders of the other voice parts.  The section leaders are available for as much practice as you like.  Your audition audience is small, including the director and the four section leaders.  Once you have successfully auditioned, the VP for Membership will assist you with the completion of the application process.
Dues
Becoming a member of the America the Beautiful Chorus means that you are a member of the Pikes Peak Chapter of the Barbershop Harmony Society (BHS).  The annual dues to become an official member of BHS are currently approximately $212 per year.  A portion of that fee payment is returned to our chapter for our operating budget.  There are no regular chapter dues beyond what is paid to BHS.  A singer may attend chapter rehearsals regularly without becoming a member of BHS.  Depending upon singing ability, a guest may on occasion be permitted to participate in a chorus performance.  However, only registered members of BHS may participate in competitions sanctioned by BHS.  In order to participate in performances, it will be necessary to purchase the required attire.  A singer 25 years or younger will obtain a first year membership in BHS for free, but chapter and district dues will be $68.  However, the Pikes Peak Chapter may provide a first year membership scholarship to deserving young singers desiring membership.  After the first year, dues for a singer 25 years and younger is $140.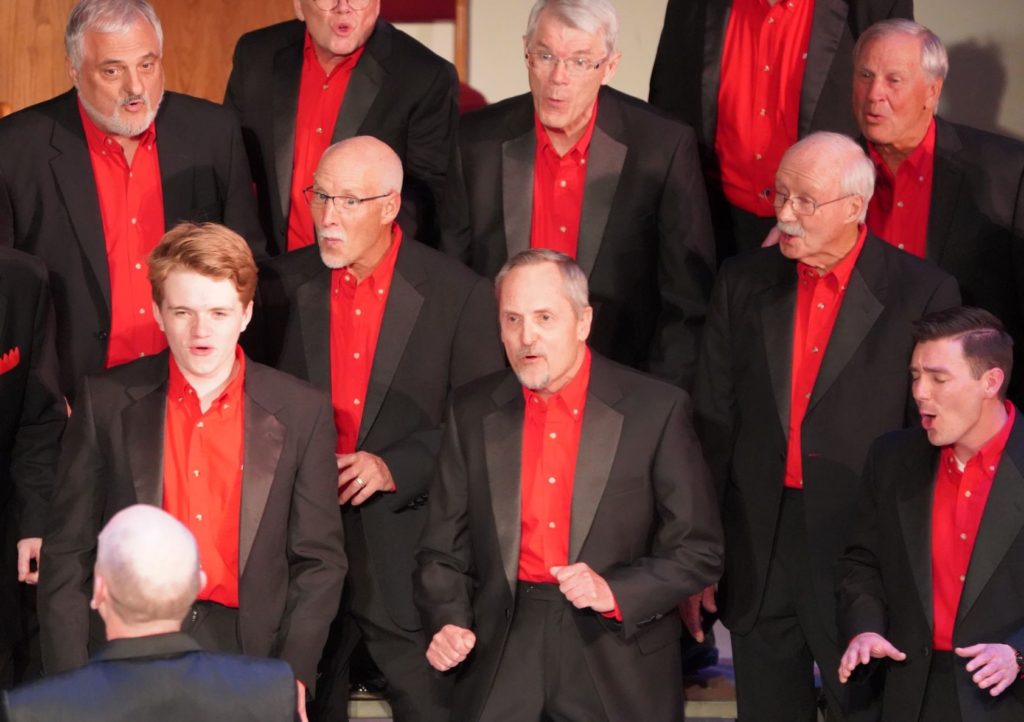 Commitment
You are probably wondering, "What sort of commitment do I need to make" to join such a group.  Our chorus is comprised of a very diverse group of singers of all ages.  We have singers who are retired, some who are still very actively engaged in their careers, and some who are still in high school!  Our current roster of active members is approximately 50 singers.  We are always pleased when we can muster 30-35 singers for one of our shows or major productions.  Obviously, there are events which preclude members from participating in every chorus activity.  You would be no exception to that situation.  We only ask that you make an honest effort to be an active member and participate as often as possible.  We have found that most members arrange their personal lives to accommodate as much singing as possible.  Once you have enjoyed an audience showing its appreciation for the resonance and ring of barbershop style singing, you will understand why.